2017.02.28 Tuesday
EM菌による水質浄化の事例1:Waste Water Treatment in a Milk Factory(スリランカ)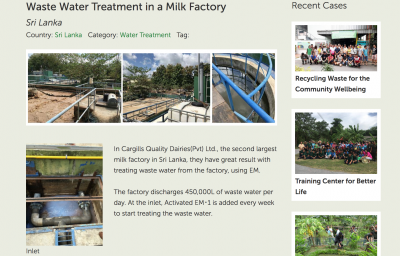 https://emrojapan.com/case/detail/74
Waste Water Treatment in a Milk Factory
ミルク工場における廃水処理
In Cargills Quality Dairies(Pvt) Ltd., the second largest milk factory in Sri Lanka, they have great result with treating waste water from the factory, using EM.
The factory discharges 450,000L of waste water per day. At the inlet, Activated EM・1 is added every week to start treating the waste water.
スリランカで2番目に大きな牛乳工場であるCargills Quality Dairies(Pvt)Ltd.では、EMを使用して工場からの排水を処理することで大きな成果を上げました。
工場は1日当たり450,000Lの排水を排出しています。注入口には、活性化EM・1を毎週添加して廃水の処理を開始する。
The waste water is separated into fluid and solid matter (fat). The fat is transferred to a fat dome where they also throw EM in twice a week.
廃水は、流体と固形物(脂肪)とに分離される。脂肪は太ったドームに移され、週に2回EMを投げます。
Before the introduction of EM, the fat dome could not process separated fat well. The water used to remain white even after going through the fat dome, and its odor was terrible. With EM application, the dome performs its role perfectly to treat the fat with fermentation and the processed water became gray, instead of white color. (*The color of the water is usually darker when the fat is processed well.)
EMを導入する前に、脂肪ドームは脂肪を分離して処理することができませんでした。脂肪ドームを通っても水は白く残っていて、その臭いはひどかった。EMアプリケーションでは、ドームは発酵で脂肪を処理するためにその役割を完璧に果たし、処理された水は白色ではなく灰色になりました。(*脂肪がよく処理されると、水の色は通常濃くなります。)
The fat is fermented with EM in the dome and put back to anaerobic tanks. After going through 2 different anaerobic tanks, the water is transferred to aerobic tanks for the rest of treatment process.
脂肪はEMでドーム内で発酵され、嫌気性のタンクに戻されます。2つの異なる嫌気性タンクを通過した後、残りの処理プロセスのために水は好気性タンクに移されます。
As a result of the use of EM, the terrible odor is now gone. The final pond, filled with treated water used to be green with water-bloom, but it became clean and transparent.
EMを使用した結果、ひどい臭いが消えました。処理された水で満たされた最後の池は、水の咲きを伴う緑であったが、きれいで透明になった。